Now that you're on your way to completing the setup of your salon or spa, one thing is missing — your facial bed. It's time for you to start shopping or to make your final decision.
This Fully Electric Adjustable Facial Bed/Massage Table may be what you're looking for. It is versatile, comfortable, and comes with a free matching technician stool.
It will be the perfect complement to your space.
Revised January 2023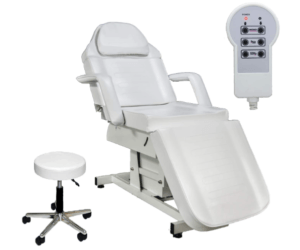 (As an Amazon Associate, I earn on qualifying purchases.)
Overall Features | The Basics
Product: Fully Electric Adjustable Facial Bed/Massage Table
Sold By: Amazon
Brand: LCL Beauty
Sale Price: $749.88 (This price is subject to change.)
Color: White
Guarantee: 1-Year Manufacturer's Warranty
Overall Rating: 8 out of 10
Facial Bed | A Closer Look at the Features & Description
This versatile treatment bed/table has…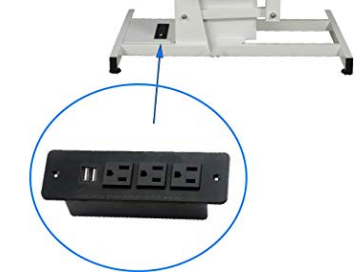 A 3-Port Powerstrip with 2 USB Ports
Easily Removable Arms
Removable Headrest
Face Opening
4″ High Density Foam Padding for Extra Comfort
Whisper Quiet Movement
Digital Touch-Sensor Remote Control
Dimensions: Height – 26.25″ to 32.25″, Length – 74.25″ to 81.25″, Width – 24.25″
Bonus: Matching Pneumatic Technician Stool
What Are the Benefits? | This Facial Bed Could Be Right For You.
The customizable features provide a more comfortable customer experience.
The powerstrip is conveniently located at the base of the bed. This makes it easy to plug other electrical equipment and gadgets requiring a USB port.
You don't need tools to remove the arms. Just take them off when they get in the way. Replacing them is just as quick and easy!
Remove the headrest. The face opening makes it more comfortable for back treatments.
Give your clients a more relaxing experience.  That's because the foam padding is designed for their comfort.
Additionally, they'll enjoy the quiet movement during their treatment.
The remote control is a plus! This gives you the ease of operation with the press of a button to lower or raise headrest, footrest, and height.
It's easy to assemble even if you require help to do so.
Enjoy a free matching technician stool.
Additionally, your online manual helps to save the trees!
You also have the guarantee that comes with a 1-year manufacturer's warranty.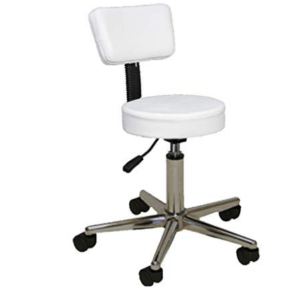 Why Is It Right for You and Your Business?
It makes sense to have facial bed that also converts to a massage table.
If you're an esthetician, the face opening gives your client a better option when doing a back "facial." A massage therapist will also find it to be a beneficial feature!
Your Fully Electric Adjustable Facial Bed customizes to suit each person's needs. For example, your clients may be short, medium, or tall. It works for everyone.
The dimensions is also suitable for the comfort of the majority, if not all, of your clients.
Check out what others are saying. This may help you to make a decision.
What Others Are Saying | Facial Machine Reviews
The Fully Electric Adjustable Facial Bed gets a 4 out of 5 rating on Amazon by other purchasers. Here's a summary of what they have to say…
Pros:
The price is right for its versatility!
The size is also right.
Clients experience comfort with the foam topping.
It's better than a massage table.
Some also found it to be quiet.
An outlet on the base of the bed is convenient.
Additionally, the bonus chair makes the purchase worthwhile.
Cons:
It's wobbly.
Some thought it was too heavy.
Assembly instructions weren't included.
The arm rests are uncomfortable.
Also others thought it was noisy.
Your Fully Electric Adjustable Facial Bed | This Sums It Up.
So here's the thing: Get that missing item into your salon or spa.
Are you an electrologist, laser hair removal specialist, esthetician, massage therapist or any salon and spa beautician? Chances are you need a treatment bed or table.
This facial bed/massage table gets a thumbs from the majority of purchasers. Now it's your turn to make a decision. Your voice will also make a difference.
I hope this review will help you to make the right decision. CLICK HERE for more details and also to make your purchase.
(As an Amazon Associate, I earn on qualifying purchases.)
Feel free to leave your questions and comments below. I will do my best to address them.