"What to Buy Review | Revlon Compact Hair Dryer, Lightweight" features a versatile product that fits easily into your lifestyle whether at home or on the go.
There isn't a lot to say about this product as it's simple and effective to meet your hair drying needs wherever you are. And it has no attachments or complex maneuvering to operate.
Take a look at the features and benefits below. Also, see what other purchasers have to say and why they like or dislike it.
(As an Amazon Associate, I earn on qualifying purchases.)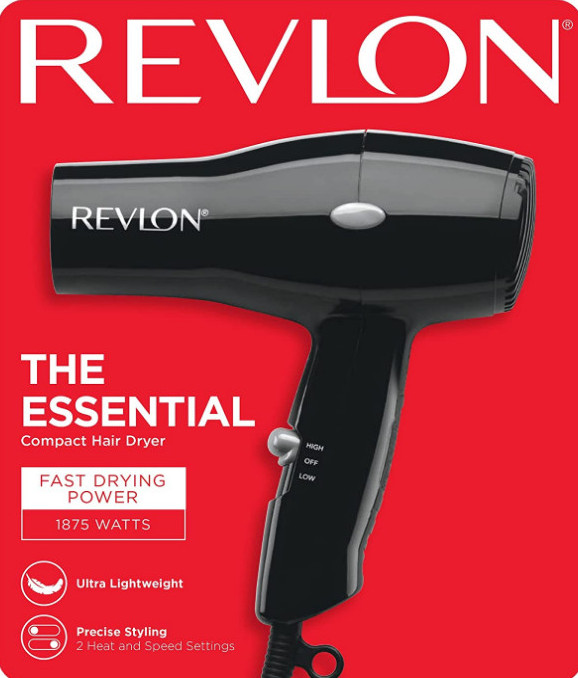 Overall Features | Simple and Effective
Name: Revlon Compact Hair Dryer
Sold By: Amazon
Brand: Revlon
Price: $12.99 (This price is subject to change.)
Color: Black
Wattage: 1875 Watts
Voltage: For 120 volts outlets only
Rating: 9.2 out of 10
Features:
This hair dryer is compact and lightweight.
It has two heat/speed settings.
Also protective anti-slip bumpers.
And comes with a hanging ring.

Benefits:
You can easily fit this compact, lightweight hair dryer into your luggage for traveling.
There are no complicated buttons to get you confused. Just switch to a low or high setting as needed.
The anti-slip bumpers offer protection while you safely style your hair.
And the hanging ring allows you to hang it at a convenient place without cluttering your countertop.
Why Would You Buy This? | It Suits Your Needs.
You may like this product if you're looking for something simple and easy to operate. In addition, it fits into your suitcase, duffle bag, or overnight bag.
This is one item you'll be happy you won't have to leave at home and worry about how to maintain your lovely hairdo. It goes wherever you go, and that's about anywhere you choose.
It's recommended for curly and wavy hair, but the reviews show it's used for all types of hair. Even men use it to dry their beards! So, it's suitable for men, women, and for you to use for your children's hair.
Have you ever been somewhere you expected to have all the amenities you need only to discover they're missing? Imagine checking into an Airbnb and the hair dryer they advertised just isn't there.
This could ruin your special occasion such as a wedding, party, or reunion. That wasn't the way you expected it to go. So now you have to come up with a last-minute plan.
You won't have to worry about that happening again with your compact, lightweight dryer by your side.
And what about your family members and friends who also borrow your stuff without returning them? You could consider making it a gift item. Or you could recommend they get their own.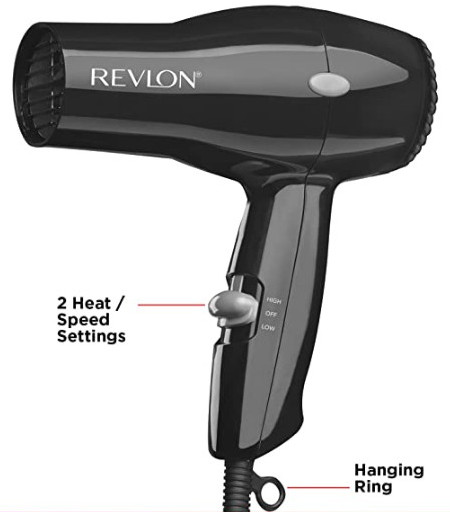 What Others Are Saying | Revlon Compact Hair Dryer
The Revlon Compact Hair Dryer gets a 4.6 out of 5 rating on Amazon with 76% giving it 5 stars. Here's a summary of some of their comments.
Pros:
The value is unbeatable.
It stores easily.
It doesn't have unnecessary attachments.
The weight is perfect!
Three settings off, low, and heat are adequate.
Cons:
The low is too low and the heat is too hot.
A medium setting would be helpful.
Someone said it took too long to dry her hair.
Conclusion
So, here's the thing, this product doesn't come with bells and whistles. It simply does its job of drying your hair, if that's what you're looking to do.
Your life will be much easier when you can save yourself the stress of not having essential items, especially when you travel. Therefore, it may be a good idea to have this little lightweight dryer on the go with you.
(As an Amazon Associate, I earn on qualifying purchases.)
If this compact hair dryer is one you think will suit you, please CLICK HERE for more information or to make a purchase. Remember to share this information with your family and friends.
Also, I hope this brief review, "What to Buy Review | Revlon Compact Hair Dryer, Lightweight" was somewhat helpful. Please feel free to leave your questions and comments below. I will do my best to address them.