Welcome to So Hair's The Thing – Superfluous Hair Growth, otherwise known as hirsutism!
As a licensed electrologist & laser hair removal specialist, my area of interest is hirsutism, superfluous hair growth. I look at symptoms, causes, & treatment.
Nothing Wasted | My Diverse Career Paths
So here's the thing: My career paths and areas of interest are diverse. Everything I do comes together to showcase who I really am and what drives me … having a servant's heart. As a result, nothing is wasted.
In the midst of this diversity is licensed electrologist and laser hair removal specialist; hence, my interest in hirsutism, superfluous hair growth. This is more common than I would have imagined before studying electrology. People, men and women alike, have real concerns about unwanted hair growth.
I am passionate about learning and educating others … making a difference in their lives. I love to write, so it makes sense to have a platform to express myself and share information people are looking for.
My Core Value | Service to Others
I care about people's pain. I can't help everyone or alleviate their pain, but there is something I can do to make a difference.
This platform is one where I can reach millions who are suffering or know someone who is and want to reach out to them. This is a place where people can find answers and have a better understanding of what they are going through.
I Want to Take This "Hair" Journey with You. | Yes, You.
This site is aimed at bringing awareness about a concern that has plagued people for centuries. There is information about signs, symptoms, causes, and treatment of hirsutism–superfluous hair growth.
Life is a cycle. Hair growth has a cycle. The solution to permanently eradicating or eliminating unwanted hair will take time. That also is a cycle.
Everyone's journey is unique, but everyone has a story. You may or may not want to share your story. That's fine. Find something that works for you. That will make all the difference.
You may even feel more confident to share after a while, and experience the joy of helping someone else who thought their situation would never change. This can be very stressful for some people.
What About You? | Got Superfluous Hair?
Maybe you have a hair issue … or someone you know. You can find out more about what's going on.
Ask questions, find answers, get pointed in the right direction.
Your questions may be …
What is hirsutism?
What causes superfluous hair growth?
Is it hereditary?
Which doctor specializes in hirsutism?
Don't be crippled by lack of knowledge. Seek and find answers.
If you ever need a hand or have any questions, feel free to leave them below and I will be more than happy to help you out.
All the best,
Veron Percy-Jarrett
https://sohairsthething.com/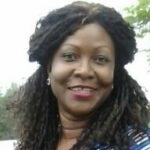 Please visit my other websites: